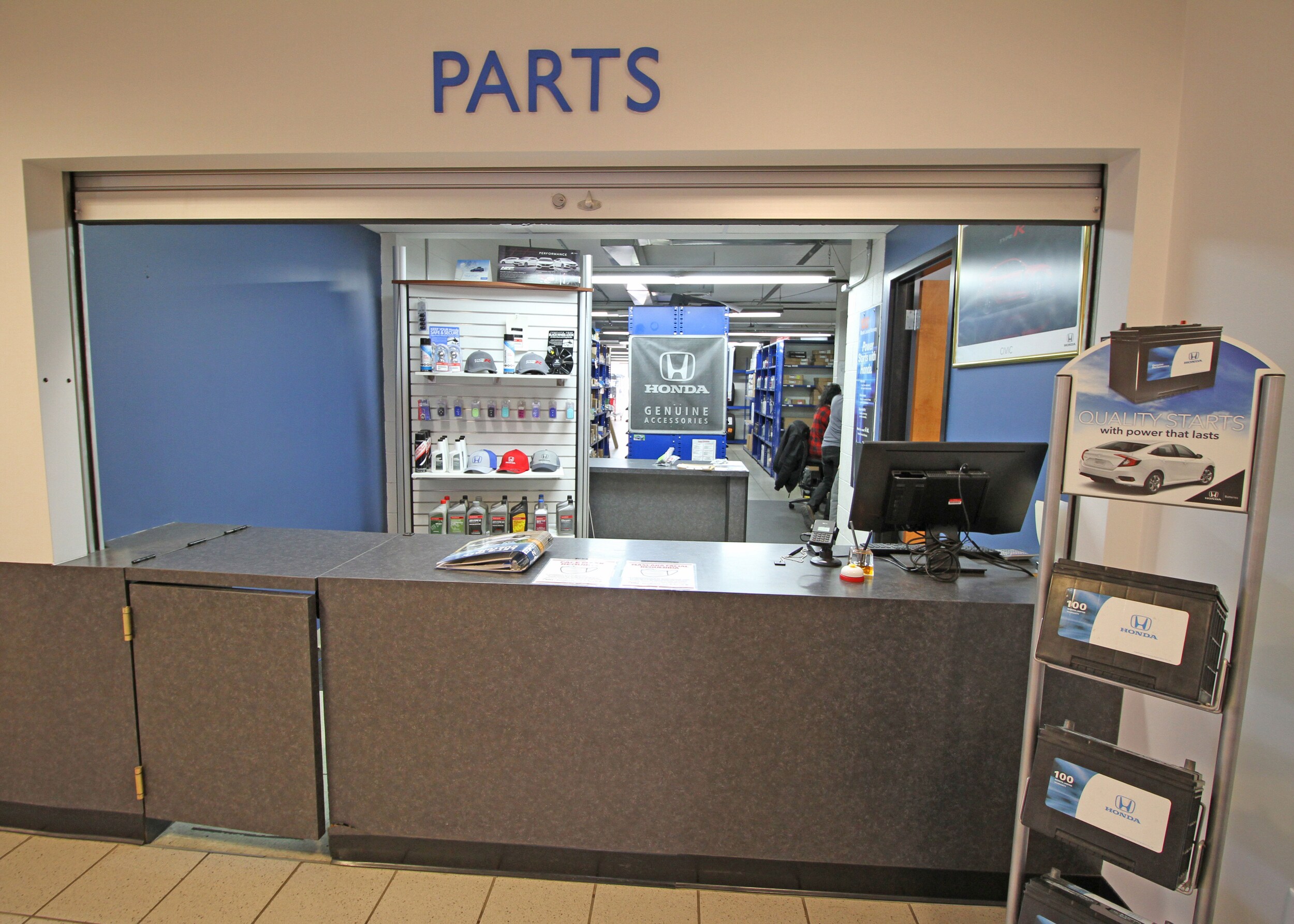 Apple Honda of Hanover is where budget-conscious Honda drivers in the Hanover, Pennsylvania area come for high-quality parts that last. With unbeatable prices and frequent discounts, we're your destination for replacement parts, oil and fluids, car cleaning supplies, and trendy accessories. Read on to learn more about our parts and the parts coupons that make it even easier to secure your OEM Honda parts.
Parts Center at Apple Honda of Hanover
No car owner enjoys hearing that they need to buy a replacement part for their car, but at Apple Honda of Hanover, we aim to make it a stress-free experience. We sell original equipment manufacturer (OEM) parts for Honda vehicles, meaning you can buy the exact part the manufacturer recommends for your make, model, and year. These high-quality parts are long-lasting and high-quality, and you know they won't cause issues with other parts in your vehicle.
Here are just some durable parts you can find at Apple Honda of Hanover:
Brake pads.
Spark plugs.
Oil.
Oil filters.
Fluids.
Splash guards.
Batteries.
Windshield wiper inserts.
Plus, ordering a new part isn't just for when your car breaks down. We can also supply you with a number of fresh accessories to make your vehicle more your style. Whether you're looking for one-of-a-kind decor to customize your car, high-tech accessories to help you stay plugged in, or cleaning products, mats, and covers to keep your interior and exterior spotless, we can help.
Why Should You Use OEM Parts?
When it's time to purchase a new part or accessory for your vehicle, you have three major options for sourcing the part: OEM, aftermarket, and salvage parts. Understanding the differences between these three types of car parts could help you make an informed choice.
OEM parts come directly from your vehicle's manufacturer. When technicians install OEM parts, they customize them specifically to your vehicle. These parts are also subject to Honda's specific quality standards. Experts carefully inspect these parts during production to ensure they work exactly as designed.
Aftermarket parts are available from third-party technicians and auto shops. These parts come from an external manufacturer who designs them to fit in a variety of makes and models or to mimic OEM parts. Aftermarket parts are typically cheaper than OEM parts, but their price reflects their quality. They're far less reliable than genuine OEM parts. Plus, it's hard to vet how these parts might interact with other parts in your car. Using an inexpensive aftermarket part could cause unexpected damage, leading to an even higher repair bill in the future.
Your third option is to use a salvage part. Salvage parts are a type of aftermarket part sellers retrieve from broken down or totaled vehicles. While they're often the cheapest option, there are minimal quality standards to protect you as a consumer. Because these parts come from car crashes or dissembled vehicles, salvage parts can be faulty, dirty, or old.
OEM parts are the best option if you want to protect your car. They offer the best performance, and they're specific to your make, model, and year. OEM parts typically last the longest, too, so you won't have to purchase another replacement just a few years later. Your car is valuable to you, and it's worth it to invest in high-quality, dependable parts that keep it running smoothly. Plus, while aftermarket and salvage parts have a reputation for being cheap, if you buy your OEM parts from the right dealer, you can find them at unbeatable prices.
Benefits of Buying Your Parts from a Dealership
For drivers who want to extend their car's life, ensure its safety, and get the most value for their money, a reputable Honda dealership is the best place to buy your car parts and accessories.
High-quality parts: If you're looking for authentic parts approved by the automaker, buy from a dealership. These quality-controlled parts are more reliable and efficient than aftermarket parts sold by third-party mechanics and big box stores.
Affordable prices: Dealerships run frequent specials so customers can get the best part at a rate they can afford. At Apple Honda of Hanover, we sell parts at lower prices than the chain retailers.
Expert installation: When you purchase your parts from a dealership with a service center, top-notch technicians can install the part for you. We have certified Honda technicians who will handle your installation with care.
Convenient experience: Dealership service centers often offer plenty of amenities to make your shopping and installation experiences comfortable. At Apple Honda of Hanover, we even offer Express services for busy customers on the go.
Excellent customer service: When you bring your car to someone you can trust, you get personalized care. We pride ourselves in putting our customers first and providing friendly support to everyone who visits our parts center.
Use Parts Coupons to Save on Car Parts
Taking care of your car is essential, so we believe it should also be affordable. That's why we offer frequent parts coupons so you can purchase the parts you need and the accessories you want while staying within your budget. Our coupons change regularly, so check our website or give us a call to learn what the latest offer is. We have discounts on popular items, seasonal needs, and more. If you want to schedule a service while you're at it, we also have a variety of service specials to make vehicle maintenance as affordable as possible.
With our regular low prices combined with our special discounts, it's never been cheaper to purchase the highest quality parts for your vehicle. If you're in the Hanover, Pennsylvania area, contact us today to discuss your needs. We'll let you know if we have the item you're looking for in stock, and if we don't yet, we'll find it for you. At Apple Honda of Hanover's part center, you and your vehicle are in capable hands.