Frequently Asked Questions
at Apple Honda of Hanover
Have you done all the Honda model research you want but still have additional questions? Fear not, as the Honda sales, service and finance experts are here to provide answers to all your car-buying questions. In fact, our Honda dealership in Hanover, PA, has put together a comprehensive list of Apple Honda of Hanover Frequently Asked Questions we've received over the years. Check out our FAQ before visiting us!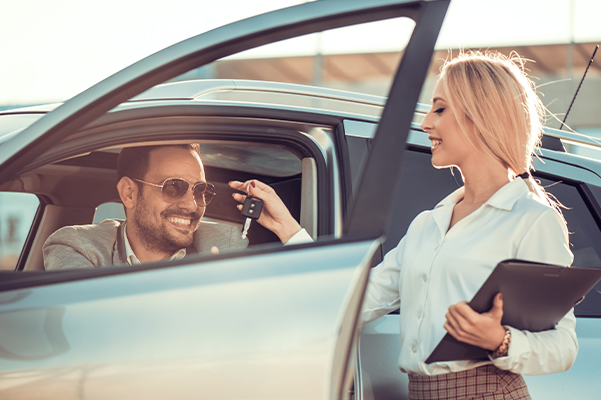 What Is the Apple Honda of Hanover Address?
Apple Honda of Hanover is located at 1226 Carlisle Street in Hanover, PA, which is a convenient drive away for Central Pennsylvania Honda fans visiting from Parkville, Shiloh, Gettysburg and beyond. Get directions to Apple Honda of Hanover and come by soon.
When Is Apple Honda of Hanover Open?
The Apple Honda of Hanover sales hours include the following:
Monday -- Thursday: 8:30 a.m. to 8 p.m.
Friday: 8:30 a.m. to 6 p.m.
Saturday: 8:30 a.m. to 5 p.m.
Sunday: Closed
Our Honda service center in Hanover, PA, has the following hours:
Monday -- Friday: 7 a.m. to 6 p.m.
Saturday: 7 a.m. to 4 p.m.
Sunday: Closed
How Do I Contact Apple Honda of Hanover?
There are a few easy ways to get in touch with us. You can contact Apple Honda of Hanover online or by giving us a call at the following phone numbers:
Main Line: (717) 632-2992
Sales Department: (877) 394-0418
Service Department: (877) 512-8036
Parts Department: (877) 835-9837
What Are My Honda Financing Options?
When you choose our Hanover Honda dealer, you'll have a wide variety of auto financing solutions that are catered to your needs. You can apply for a car loan nearby to get help on a Honda CR-V down payment, opt to pay for a car in cash upfront and more at our Honda finance center.
Do You Have Any New Honda Specials Running?
Whether your dream ride is a new Honda Pilot or Accord, we're confident that we have exciting Honda specials to pair you with. Claim great Honda Civic lease terms or low auto financing rates with our incentives.
What Is the Easiest Way to Estimate Monthly Car Payments?
We can help Central PA Honda fans calculate how much they can afford on monthly Honda payments. Use our car payment calculator to easily determine price options, down payment amounts and more, then stop by and chat with our Honda finance experts.
How Do I Apply for a Car Loan in Central Pennsylvania?
You can move the process along quickly by filling out a Honda finance application online, or simply fill out the paperwork with the assistance of our team when you visit Apple Honda of Hanover.
Can I Get Approved for a Car Loan Before I Visit?
Absolutely! You can get a head start by applying for Honda credit online. You'll need to include some important information, such as your address and income, as well as details on the new Honda SUV or used Honda car you want to drive home in.
Can I Use My Vehicle as a Trade-In?
We'd love to help you apply your used car's trade-in value toward a new Honda HR-V or Odyssey. Prefer to sell a car in Hanover, PA? We're actively looking to fill our inventory with vehicles just like yours, no matter the make, model or condition that it's in.
What Is the Section 179 Tax Deduction?
Implemented by the U.S. government, the Section 179 Tax Deduction is designed to help small business owners prosper and grow. Claim Section 179 tax benefits at Apple Honda of Hanover.
Is GAP Insurance Worth It?
We recommend drivers financing a vehicle have GAP insurance, as it covers the amount you owe on your car and the car's actual cash value in the event of an accident. You can purchase GAP insurance or additional Honda service plans here.
Apple Honda of Hanover
Local Car Dealership Selling New and Used Cars
Serving: Hanover, PA
Local Phone: (717) 632-2992
Directions to Apple Honda of Hanover
1226 Carlisle St, Hanover, PA 17331