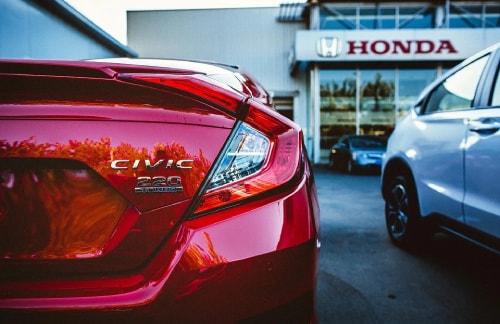 Image by StockSnap is licensed with Pixabay License

Buying a used vehicle is often a great way to save money while still getting a reliable vehicle. However, with so many options to choose from, it can be hard to know where to start your search. Luckily, if you decide to get a Honda vehicle, there are many used options available that you can get for under $15,000. Below, we'll highlight what you should look for in a used vehicle and which Honda vehicles might interest those of you on a tighter budget.
Top 5 Used Hondas to Consider
Now that you know what to look for in a used vehicle, here are 5 great options from Honda for you to consider:
2016-2019 Honda Civic
The Honda Civic is a compact car and one of Honda's most popular vehicles. Newer models start off around $22,000, meaning you'll need to go back a few years to find one for under $15,000, but not too far. If you're looking for a reliable, safe and affordable car, this is one of the best options on the market regardless of its manufacturing year. With the Honda Civic, you can often get a vehicle that's fun to drive and great on gas, all for under $15,000. One of the best things about the Honda Civic is that you can find it with different body options, including sedan, coupe and hatchback, which gives you more flexibility.
2015-2019 Honda Fit
The Honda Fit is a subcompact hatchback. The newest model has an MSRP starting at $17,185, meaning you only have to go back a few years for a good chance of finding one for under $15,000. By being a subcompact hatchback, this makes it smaller than most SUV models, while still providing you with a decent amount of passenger and storage space. For example, the back seats in the Honda Fit provide more legroom than the Honda Civic and you can fold them down for even more cargo room. The Honda Fit provides great value, especially if you find one of the models produced within the past few years.
2012-2016 Honda CR-V
The next step up in terms of size is the Honda CR-V. New Honda CR-V's cost a lot more than $15,000, but you may be able to find a used option for under $15,000 if you check between the years 2012 and 2016. The CR-V is a compact SUV, which means it provides more passenger and cargo room compared to the Honda Fit. In addition, you can often find models with all-wheel-drive, making it great for those bad weather days or going off the beaten path. If you find a Honda CR-V made after 2015, you'll also get upgrades such as an improved suspension system and an improved transmission for better fuel economy.
2006-2014 Honda Ridgeline
If you're looking for a used pickup truck, you should strongly consider a Honda Ridgeline from between 2006 and 2014. By going with a truck from one of these years, you're more likely to find one that's under the $15,000 threshold. However, despite going back that many years, the Honda Ridgeline still has some great features. For example, many Ridgelines from these years include a fully independent suspension, a foldable tailgate and a lockable in-bed trunk. This is a great option to consider if you want a reliable truck with a smooth ride, all at a reasonable price.
2011-2017 Honda Odyssey
Finally, there's Honda's minivan, the Honda Odyssey. If you want a vehicle that has three rows of seats and plenty of safety features, then you should strongly consider the Honda Odyssey. At the time of its production, the 4th generation Odyssey, produced between 2011 and 2017, was one of the best minivans on the market. Depending on what sort of trim you find and the year it was made, you might even find built-in features like a DVD player and a vacuum cleaner, which is great for parents.
How to Choose a Used Car?
Features
First, you need to make sure the used vehicle has the features you're looking for. For example, does it have enough seats? What sort of performance does it provide? Does it have the right entertainment features? Start by making sure that the vehicle fits your most important needs before diving in deeper into the details of each vehicle.
Vehicle History
The next thing you'll want to explore is the history of the vehicle. Specifically, you'll want to learn if the vehicle was involved in any accidents and about the maintenance and repair history of the vehicle. Most used car dealerships can provide you with a full vehicle history that details this information for you. If not, you can often find these reports online yourself. Before buying a vehicle, you want to make sure it wasn't involved in any serious accidents and that the previous owners took good care of it.
Mileage
An important number to know for any used vehicle is the mileage. All vehicles wear down over time and this process speeds up when there are more miles on it. The amount of miles on a vehicle can tell you about how often it was used and give you an idea as to how long the vehicle might last. When exploring the mileage of a vehicle, remember to combine this information with the maintenance history. For example, a vehicle with 100,000 miles and regular maintenance may actually be the better purchase compared to a vehicle with 50,000 miles and no maintenance.
Price vs. Value
Finally, consider both the sales price of the vehicle and its estimated value. You can find the value of a used vehicle by looking it up online. Then, compare this value with the listed price to ensure you're paying a reasonable amount. While you may not be able to buy the used vehicle for the exact value, you want to make sure you're not paying too much more than it's worth.
Find Your Next Used Honda at Apple Honda of Hanover
If you're interested in getting a used Honda, then Apple Honda of Hanover is here to help. Take some time to browse through our current inventory of used vehicles and see what we have for sale. Then, once you find something you like, schedule an appointment at our dealership by contacting us. If you have any questions about available used Honda vehicles or need help picking something out, our sales staff is always available to assist you.